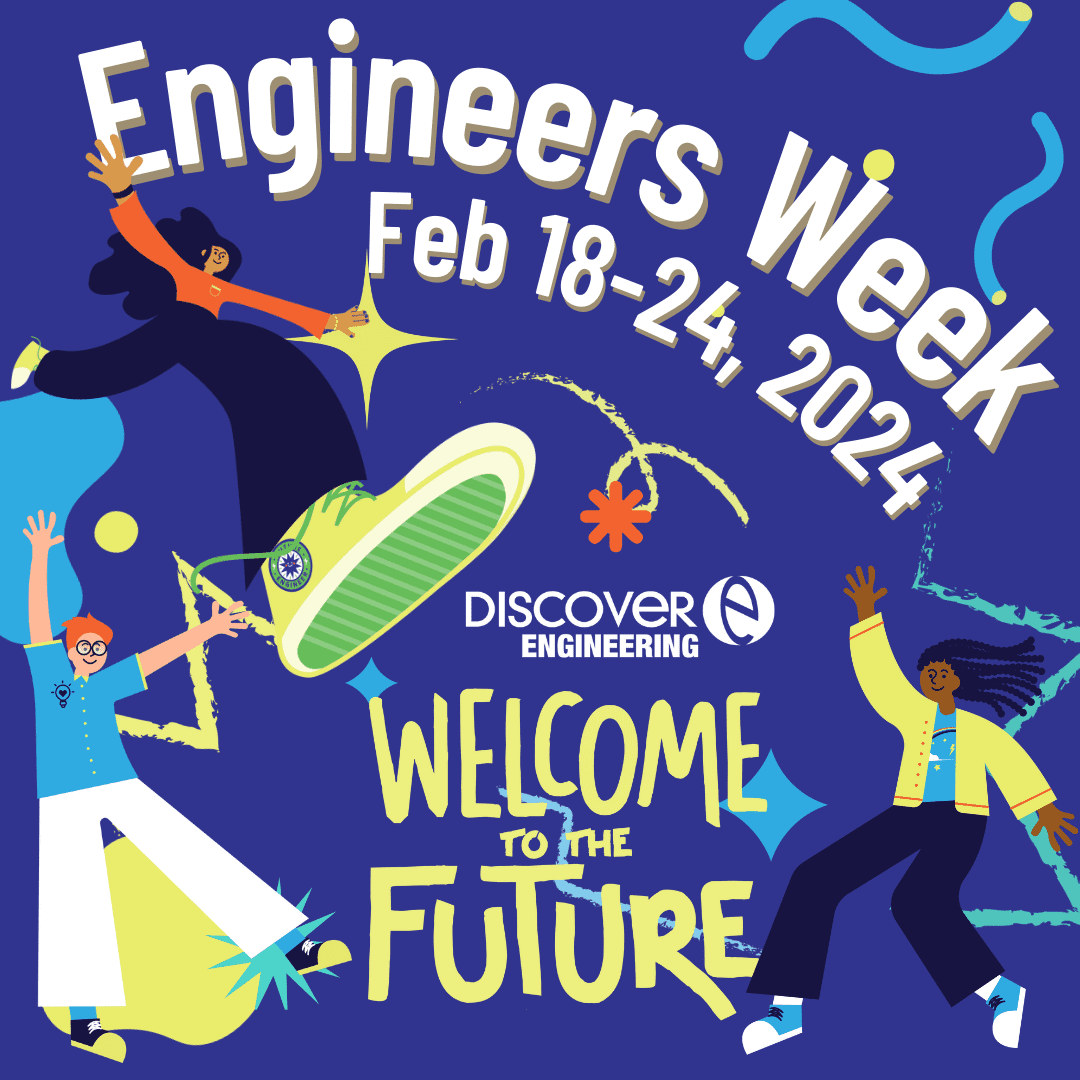 February 18-24, 2024
More than a week-long event, Engineers Week is a year-round commitment to making a difference. The only event of its kind—it is a time for you to:
Celebrate how engineers make a difference in our world
Add your voice to the conversation about the need for engineers, technicians, and technologists
Engage students in engineering
Get your 2024 Planning Guides for Volunteers and Educators AND check out downloadable promo resources for your events and activities:
Whether you meet with students in-person or virtually, you can spark their interest by talking to them about engineering, doing STEM activities, and sharing your story.
Tune in to our Engineers Week 2024 Kickoff webinar to learn more!
During Engineers Week or anytime during the year, we invite you to:
Learn more on how you can help a student build their STEM identity and download our 2024 Engineers Week Planning Guides:
74% of educators agree: Students don't have many chances to meet engineers. You can change that!
Get Logos and Social Media Graphics
Click Promotional Resources
This is a time to recognize the critical work of engineers, technicians, and technologists.
Join us on social media #Eweek2024

Post photos of your team, engineering projects, and even selfies!
Share a message about engineering's vital role in innovating solutions to global challenges, the value of engineers, or engaging students in engineering.

Host an event.

It can be as simple as coffee or lunch with a few colleagues to hosting an organization wide celebration.
Recognize individuals to honor their achievements – in person, online, or by nominating them for an award.
Invite an inspiring speaker to deliver a virtual or live talk.
Post pictures #Eweek2024

Advocate for the field.

Ask your mayor, governor, or congressional representative to issue a proclamation recognizing the contributions of engineers.
Work with your corporation, society, or college communications team to post a message from leadership.

Tell a friend.

Do your colleagues, friends, and family know about Engineers Week and what your plans are for celebrating? Tell them and let them join in the fun.
Get Inspired. Google Engineers Week 2023 and see what folks did last year!
This year's theme "Welcome to the Future" is about celebrating today's achievements and paving the way for a brighter and more diverse future in engineering. 
Engineers Are Shaping the Future.
Engineering is at the forefront of innovation and is instrumental in designing and creating the solutions that are shaping the world of tomorrow. From the development of the internet and smartphones to space exploration and renewable energy solutions, engineers have been at the forefront of progress, making our lives more efficient, comfortable, and connected. Through their creativity, expertise, and dedication, engineering teams are addressing global challenges, driving technological advancements, and making a positive impact on society's future. 
Read our recent blog post to learn more about this year's theme.
Engineers Week 2024 - Downloadable Resources
Need photos?
We have a photo library of copyright free images you can use in your marketing materials
"Our San Diego office celebrated the week by presenting to local students and future engineers. Even though it was a full week for students at school and the Boys & Girls Clubs, we hoped to have sparked passion with our next generation of innovators so that they, too, can be a part of imagining tomorrow."
Nicole Johnson
Cofman Engineering