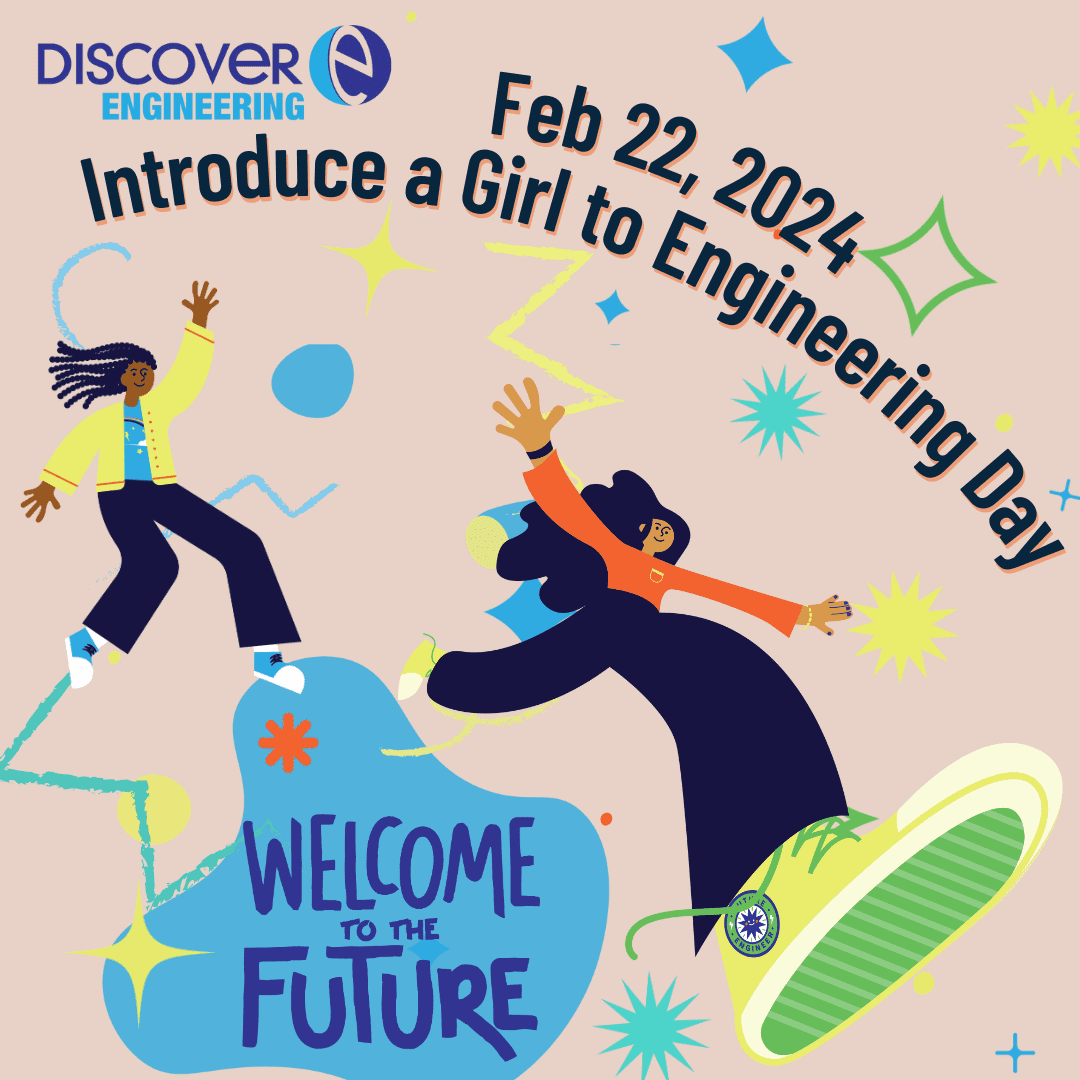 February 22, 2024
Inspire a girl's future. Be a role model.
Introduce a Girl to Engineering, or Girl Day, is a time when volunteers, educators, and others act as role models, facilitate engineering activities, and show girls how engineers change our world.
DiscoverE's Despite the Odds research found that this simple formula helps girls develop an interest in engineering, builds their confidence in their problem-solving skills, and creates a STEM identity.
Your Knowledge. Their Future.
Meet Victoria Ibarra. She attended her first "Introduce a Girl to Engineering Day" at The University of Texas at Austin when she was 10 years old. That experience set her on the path to becoming an engineer. Now she is a Girl Day volunteer and hopes she can bring out the engineer in girls.
Tips for Being a Role Model
Role Models are diverse. But they have one thing in common—the understanding that role models can inspire girls and boys from all communities and backgrounds.
Your level of involvement is entirely up to you. You can engage students in a variety of ways:
Girls who report Girl Day mentors inspired them to consider a career in engineering.
Get Logos and Social Media Graphics
That's the average grade Girl Day events receive from participants. When we asked how to make it even better they wanted more STEM activities. They also liked learning new things, eating good snacks, working in teams, and meeting engineers.
Earn an A+ from all of the girls who attend your Girl Day celebrations with these planning guides:
Educators
Spark girls' interest in engineering in classrooms, afterschool programs, and other group settings.
Engineers
Inspire a girl's future by sharing with her what engineering is all about.
Sample Girl Day Events
Check out some examples of what your event could look like.
Learn how you can help a girl build her STEM identity .
Messages Matter
Learn what today's teens and their parents think about college and careers and what resonates and motivates them to consider engineering.
Despite The Odds
Learn what the common factors are that motivate girls to pursue engineering—and then persist—in engineering education and careers.
Other important research
Need photos?
We have a photo library of copyright free images you can use in your marketing materials
A parent emailed me after our virtual Introduce a Girl to Engineering Day event (we did the ice cube challenge),
"Thank you so much! My daughter really enjoyed this. I am a civil engineer and she said that it was 'way better than when you try to do engineering with me.'"
Mary Fuller
Girl Scouts of Eastern Missouri